Collision Center Solutions
Specialty Coatings Solutions

Click on the following links for information on special industry related training classes and material made available to COLORMATCH customers through our business partnerships. Let us help you put the best training that's available in the industry today right into your hands.


AKZO NOBEL
Akzo Nobel provides state of the art product training tailored to the needs of body shops.  Courses are available at conveniently located Car Refinishes Instruction Centers, like the CRIC facility in Atlanta that we primarily utilize for our customers and staff.  All CRIC courses are OEM approved.  Contact Colormatch for class and registration information.
DUPONT REFINISH
COLORMATCH
can arrange special hands-on training at DuPont facilities that specialize in different refinish products. The following series of photos were taken by
COLORMATCH
at the DuPont training center located in Norcross, GA.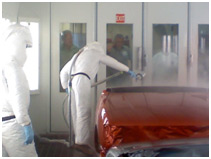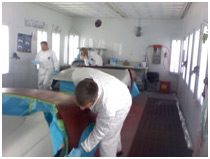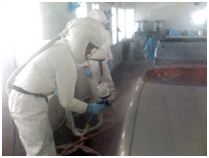 DuPont Refinish Training delivers shop education covering products, productive paint repair systems, innovative color tools, and practical business solutions that help refinishers deliver top quality repairs faster and better.

DuPont Refinish Classes are taught by experienced industry experts in state-of-the-art facilities. The classes are held at various times and locations throughout the country. Click on the following links for details.
SCHEDULE
(Contact us for final availability)
STANDOX
New advances in auto body materials, paint products and application techniques are increasing the need for up-to-date certification. Standox is committed to offering leading edge certification programs, paint shop management programs and a comprehensive range of products and services. Standox Technical Training classes are held at various times and locations throughout the country.  Click on the following link for details.
In addition to the technical classes, free Standox Univers training is also available to Standox Univers users. Univers is a user-friendly, windows-based color retrieval system . The training class details features of the system and provides practical examples of how it can benefit your shop. Univers training includes Formula Retrieval, Job Costing, Inventory, OrderNet, CAB and VOC Tracking, and System Utilities & Reports.
SPIES HECKER
Spies Hecker enjoys an excellent and longstanding relationship with its customers and the auto industry at large.  Spies is a true global player, with more than 160,000 successful customers in more than 60 countries around the world. Contact your local Colormatch rep for information on Spies classes.
DuPont eCareerTrackTM
eCareerTrackTM is a simple and easy solution to help you register for and track all your DuPont training needs for DuPont Refinish, Standox, and Spies Hecker. eCareerTrackTM allows you to view course descriptions, locations and dates, and register for courses online. You can also track your training history, certifications, scheduled courses and manage your personal profile.  You must be registered with DuPont to access this site.  COLORMATCH can register for you and help you with all your education needs.
If you are interested in any DuPont Refinish, Standox Technical, Standox Univers, or Spies Hecker classes, please contact your local
COLORMATCH
store, sales rep, or email us at
solutions@colormatch.com
. We will be glad to help you with class reservations and accommodations.

3M
3M is a diversified technology company with innovative products and services. The 3M Automotive Aftermarket Division has a large selection of product-related training videos to view on-line or to download on your computer:
Select
TRAINING VIDEOS
for selections on the following subjects:  Detailing, Dirt Trap, Dynamic Mixing System, Headlight Lens Restoration, Masking, Fuel System Cleaners, Paint Finishing, Pin Striping, Plastic Repair & Panel Bonding, PPS, Sanding, and Wheel Weights.
Select 
BEST PRACTICES
for selections on the following subjects:  Paint Department, Body Department, Detailing Department, Mechanical Department, Glass Installation & Repair, Waterborne Solutions, and Respirator Fit Testing. 
Contact your local
COLORMATCH
store, sales rep, or email us at
solutions@colormatch.com
for assistance, or to check with us regarding any special or live training that 3M may have scheduled.