Collision Center Solutions
Specialty Coatings Solutions

COLORMATCH will periodically post news items and information of interest to the collision industry.
June 2013 Axalta Coating Systems, formerly DuPont Performance Coatings, officially announced their new identity in a press release on June 4th.  Colormatch will continue to distribute Standox, Spies Hecker, DuPont Refinish, and Imron products through the new Axalta Coating Systems identity.
Click on the following links to read the announcement and see the new logo:
May 2013 Colormatch is proud to announce that Tony Nethery, Business Development Manager, has been named as the Southeast Representative to the I-CAR International Advisory Committee.  Tony will work with a team of industry professionals to make recommendations regarding new classes, policies, and procedures to the I-CAR Board of Directors.
The subject of Tony's most recent article in ABRN is I-CAR.  Click on the following link:
1st Quarter 2013 Mitchell International, Inc. Industry Trends Report (ITR). Click on the following link to view the report.
March 2013 Tony Nethery named I-CAR Instructor of the Year for the Southeast Region
Congratulations to Tony Nethery, Business Development Manager at Colormatch.  Tony was awarded the prestigious Lon Baudoux Instructor of the Year award at the I-CAR VOLUNTEER & INSTRUCTOR CONFERENCE held recently in Ft. Lauderdale, FL.  Click on the following link for the article in Fender Bender Magazine:
January 2013 AutoBody America acquired by Service King
AutoBody America, a 20-shop MSO was acquired Dec. 30 by Service King Collision Repair Centers.  Effected markets include Tennessee - Chattanooga, Clarksville, Jackson, Nashville, Memphis, and Knoxville; Jackson, Mississippi; and Fayettville and Little Rock, in Arkansas.  Service King announced that it will retain 250 AutoBody America employees throughout the 20 locations, which will have the capacity to repair more than 40,000 vehicles annually.  Mike Abbot, Market VP of Service King said, "We are very excited to partner with a great company in AutoBody America".
December 2012 Tony Nethery article on cover of recent industry publication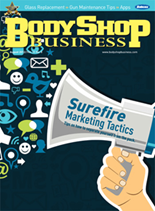 We are proud to announce that the cover article in a recent issue of Body Shop Business was written by Tony Nethery, Business Development Manager at Colormatch, and Director of BetterBodyShops.  Be sure to click on the link below to read what Tony had to say in "Surefire Marketing Tactics...Tips on how to separate yourself from the pack".
December 2012 Colormatch Store Consolidation
Click on the link below to read about the consolidation of the Owensboro, KY store with Evansville, IN...
September 2012 Refinish Distributors Alliance:  Collaborating to IMPACT Minds
The September issue of Autobody News has an article about RDA and the IMPACT brand.  An inset is included in the Southeast edition that describes the importance of the connection Colormatch has with RDA.
August 2012 DuPont Performance Coatings purchased by Carlyle Group
An official announcement was made this morning that the Carlyle Group has agreed to purchase DuPont Performance Coatings, the automotive products and services unit of DuPont.  The Carlyle Group is a 'Global Alternative Asset Management' firm based in Washington, D.C.  According to the Wall Street Journal, this is Carlyle's third acquisition this summer, which included the purchase of Service King Collision Repair Centers, finalized on August 20, 2012.
As a long-time distributor for DPC, this is very exciting news to us.  We believe this acquisition will be to our distinct advantage in the near future.  We fully agree with the statement made by Ellen Kullman, Chief Executive of E.I. du Pont de Nemours & Company, "We have determined that DuPont Performance Coatings' full growth potential would be best realized outside DuPont and through the sale to Carlyle."
We look forward to the positive changes and opportunities that will arise for Hub City PBE/Colormatch due to this significant development within the collision/refinish industry.
August 2012 Collision repair documents released by Chrysler and distributed by SCRS
The following OEM information from Chrysler is given to provide details that help develop and document a proper repair blueprint.  Click on the following links to view and download the documents:
Welded Sheet Metal Repairs & Replacements
Supplemental Restraint System Post Deployment Inspection & Replacement Matrix, 2007-2013
May 2012 Akzo Nobel has been added to the Colormatch line of great paint products with brands Sikkens, Lesonal, and Wanda carried in multiple stores.  Click below for the official announcement and the updated line card.
Sean Browning, Specialty Coatings Manager, is featured in the current issue of CoatingsPro Magazine (May 2012 issue, page 74).
May 2012 COLORMATCH is proud to announce that Sean Browning, Specialty Coatings Manager, has achieved the recognition of NACE Certified Coating Inspector – Level 3, by successfully completing the CIP Level 3 Peer Review in St. Louis, Missouri, on April 27, 2012.
February 2012 An article from Collision Week reports on a recent study showing that repairers, suppliers, and insurers don't like the current system used to calculate paint & materials compensation.  The study was conducted by Richfield Associates and commissioned by ComputerLogic.  Sixty-four professionals from every segment of the industry responded to the study.  One of the participants in the study was Tony Nethery, Business Development Manager at Colormatch.
April 2011 See official statement from State Farm regarding the new parts ordering process they are developing.
April 2011 Preparing for the Xirallic shortage in the automotive refinish/collision industry.  Click on the following links to see how the Tsunami in Japan may affect body shops:
March 2011 Colormatch is very pleased to announce the acquisition of a new store and distribution center in Birmingham, Alabama.  This location introduces the Akzo Nobel line of refinish products at Colormatch, including brand names Sikkens, Lesonal, and U-TECH.  We are very excited to be part of the Akzo Nobel family and look forward to a lasting and mutually beneficial relationship with them, as well as our new customers and employees.
December 2010 Bulletin regarding use of non-OEM parts on Toyota vehicles